Feel free to make your comments on your character here.
Admin




Super High School Level

: Despair



Until she was in fourth grade, Adda grew up with her mom, Elizabeth, and her dad, Albert.  She was close to both parents, but especially cared for her dad.  Elizabeth was a stay-at-home mom, and Albert studied the occult.  However, he knew he couldn't support a family with just that, and also starred on a ghost hunting TV show with one of his college friends, Oliver, who was like an uncle to Adda.  This could keep him especially busy at times, including the first few career days at Adda's school.  
Albert's careers could cross paths at times, including the abandoned home that was to be the focus of a coming episode.  Albert had studied the building in previous research, and knew the deceased couple inside was friendly.  To make up for having missed yet another career day, Albert brought Adda with him and Oliver to the building the day they went to set up cameras for the show.
Oliver stabbed Albert in the back, sending Adda running through the building.  She circled back to where Albert laid, with Oliver in pursuit, and tried to use her dad's cell phone, which was dead like always.  Oliver approached her again, in an attempt to stab her as well, but just before the blade could reach her Albert rose in front of her, taking the blade in his chest and collapsing over once more.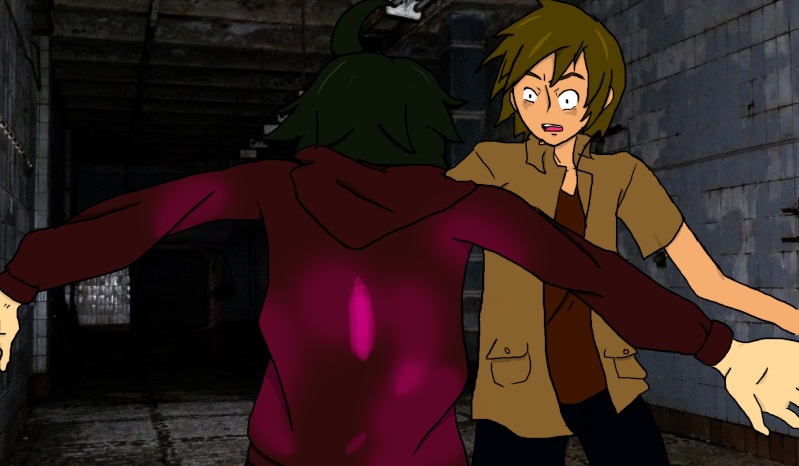 In a new rage, Oliver screamed and stabbed at Albert's arms and legs, rendering him motionless and unable to block any more blows.  Albert refused to show any expressions of pain, knowing that would only scare Adda more.  He also refused to die.  Oliver realized what was stopping him from letting go of life-  Adda was still there, and in danger.  Albert refused to just leave her there.  Oliver swung the blade wildly towards Adda, and she raced her shaking hands in front of her face, suffering a gash down her hand.  Just as he was about to finish off the trembling girl, Albert knocked him to the side, using the last ounces of his strength to drag himself across the floor for this effort, and dying with the action completed.  When Oliver tried to get up again, the police came running in.  The building wasn't in the middle of nowhere, and Oliver's screams of insanity certainly weren't quiet.  Adda was dragged away by the police as she cried out for her dad.
For a few days after, Adda was extremely reserved, barely speaking at all.  Elizabeth feared that she had lost her whole family- her husband in body, and her daughter in spirit.  Adda consequently tried her hardest to instead cheer her mom up, pushing aside all of her worries.  Elizabeth's dad moved in with them, and Adda dedicated all of her time to studying the occult, with reading past her bedtime in the dark leaving her in need of glasses.  Her cheer was at first fake, but in the year before leaving for Hope's Peak she had truly become herself again.
Albert stayed with Adda since he died.  He felt entirely responsible for the pain she had felt in witnessing him die in such a manner, and refused to let her see another corpse like that to the best of his ability.  While he didn't hover over her at any point before the events of Danganssassination, he would often take control of her body at night to leave her notes in what became a conversation through a diary.
Admin




Super High School Level

: Despair



Laura Besley : Super High School Level Dirt Bike Rider

Laura was raised in the middle of nowhere, Arizona on a farmhouse with her family: her two parents and her younger brother, Lucas. Growing up, Laura had no interest in biking. She was athletic, and a bit of a tomboy, but nothing like the athletic prodigy she was before coming to Hope's Peak. It wasn't until she was eleven years old that she would discover the sport that would make her famous.

It was Lucas's seventh birthday, on a cool winter day when the crops weren't in season. Laura loved her little brother more than anyone, and was always looking out for him. Unfortunately, their parents got caught up in the city and wouldn't be able to get home until some time later. Laura being left alone to take care of her brother for a day was a regular occurrence, and she had grown used to it. But Lucas was disappointed, and Laura thought she had just the thing that would cheer him up: a ride on their dad's super-cool tractor. Her plan worked the way she thought it would at first: They rode around the farm a few times, and Lucas seemed to be enjoying himself.

But that didn't last long, because Laura was inexperienced with driving the tractor and it was only a matter of time before something went wrong. A large bump in the field threw Laura off her balance and she lost control of the tractor. It plowed past the boundary of the field and down a nearby hill. It was just steep enough of a drop that the tractor flipped over before coming to a stop at the base of the hill. Laura managed to jump out before it was too late, but in her panic the only thing she could do for her brother was try to shove him off the other side. It didn't work, and Lucas took the brunt of the collision full on.

Lucas was unconscious, and Laura stayed by his side until their parents came home and found them. Lucas was taken to a hospital in Phoenix, and it was revealed that he would live, but with permanent spinal and brain damage and a broken arm. He also suffered from a shock induced coma. Laura wasn't allowed to see her brother for almost three weeks. She got all of her savings together (which didn't amount to much) and bought him a present for her first visit: a Batman action figure.

Nervously, Laura showed up at Lucas's bedside with his gift. She gently woke him, and he looked at her for a moment. Then, angrily, he began screaming at her. He told her he hated her and that he wished she had died. Laura was so upset that she dropped the action figure and ran out of the room, crying. She hasn't seen her brother since. He stayed in the hospital in the efforts of mental rehabilitation, and any time she and her parents visited him, Laura would wait outside.

About a week later, Laura overheard her parents speaking in hushed tones about how they were financially unstable and couldn't afford the care that Lucas needed. Upset and confused, Laura desperately searched for a way to help. And she found it in competitive Dirt Biking.

It wasn't much at first, but Laura believed that if she could make enough money in biking tournaments, she would be able to cover the cost for her brother's hospitalization as well as mend her broken relationship with him. And so Laura practiced. And practiced. She had no friends. Her entire existence revolved around getting better at what she did so that she could win more money. And eventually, her willpower shone through, making Laura Besley the Super High School Level Dirt Bike Rider.

As Laura became older, it was clear to her that no matter what she did with her talent, she couldn't fix the most important thing: Lucas's spine. He was permanently paralyzed, and as long as that remained true, Laura believed he would never forgive her. When Laura received the invitation to Hope's Peak American Campus, she believed that she could use her time there as a stepping stone to becoming something more practical: a doctor. Laura's delusional hope drove her to believe that she could help her brother get better if she went to Hope's Peak. On the day before Laura's departure, she planned to visit her brother, one more time. But he didn't want to see her, and so Laura told herself: "Just a little longer. Just a little longer until I can show him my face again."

Winning Lucas back was Laura's entire life. It drove her forward, it consumed all of her free time. So when Laura Besley received the personalized envelope from Monobear, showing photos of Lucas's lifeless body and official documentation of his death from the hospital's archives, it goes without saying that she died inside. She quite literally had nothing to live for.

When Laura ran into Alex, and saw photos of his friend who he shared a brother-like relationship with, a switch went off in her head. She couldn't stand that he was allowed to have the companionship that was torn away from her for years. She couldn't control herself from trying to kill him the following night.

Later, after the explosion, Laura found herself paralyzed from the waist down and deaf. She recognized the signs of her injury, and grew strangely content. Though not in the way she wanted, Laura had finally repaid her debt to her deceased brother. So when Monobear came to visit her in the Infirmary, she asked for death, truthfully saying she wanted it. Things once again did not go as she planned.

What became of Laura after the events of the Hope's Peak American Campus incident? I can't say for certain.



Super High School Level

: Dirt Bike Rider


Age

: 22





Similar topics
---
Permissions in this forum:
You
cannot
reply to topics in this forum